https://www.iberkshires.com/st...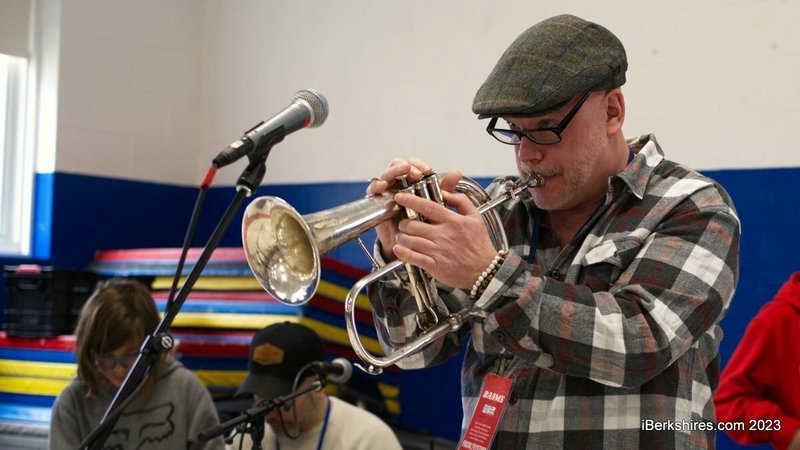 CLARKSBURG, Mass. — The Berkshires' Academy for Advanced Musical Studies Inc. is bringing its cast of world-class musicians into North County Schools thanks to a grant.

"It allows us to do what we set out to do, which is provide top-tier music instruction from some of America's most accomplished instrumentalists who are also excellent educators," Jane Forrestal, director of development and communications, said on Friday. "One thing we can do differently is reach a wider audience of young musicians from around the region … through the STARS' Residencies."

The academy received a series of grants from the Massachusetts Cultural Council and the Gateway and Pauline Young Music funds administered by the Berkshire Taconic Community Foundation equaling nearly $13,000 to fund the "Students and Teachers working with Artists, Scientists, and Scholars" residencies.

Mass Cultural Council STARS Residencies allows experts in the arts and sciences to collaborate with classroom teachers and schools to present learning opportunities not typically available to students during the school year.

The grant is funding a series of workshops at Greylock Elementary School and at Clarksburg Elementary School. Two sessions were held on April 6: one-morning session at Clarksburg Elementary School that included Abbott Memorial School students and a second afternoon session at Greylock Elementary School.

"Faculty and students come together for an introduction and some demonstration and whole-group discussion," said Richard Boulger, founder and executive director of BAAMS. "Then sectional groups will break out by instrument to work on specifics, coming back together to work on their own music project which is the ultimate goal."

Sessions were held on Friday and there will be a second round on April 27 and 28.

The workshops will culminate in a performance in which the students will perform original music created during the sessions. Darren O'Brien from Encore Audio Services, who is providing all the sound engineering for these sessions, plans to record this performance.

In Friday's workshop in Clarksburg, students approached improvisation and music composition. They learned how to write a song organically based on a moment of inspiration. BAAMS faculty set up frameworks and students filled in the gaps.

"There's so much talent here. I'm amazed when I see what these kids can put together," Boulger said.

The faculty first held an open discussion interspersed with impromptu jam sessions.

Opening up their demonstration to the 50 or so Clarksburg and Florida students, woodwind specialist Hernan Jay Rodriguez called one student to the front -- essentially putting them in the conductor's chair.

Rodriguez, who among others played with Prince, told the guest conductor that "we work for you now."

When the student pointed to one of the musicians they would solo. When he raised his hands the improviser would increase volume. Swirling his hands above his head unleashed the five-piece who all launched into a collective, weaving improvisation.

Students were then told to grab instruments. Over the cracking of opening guitar cases and unzipping gigbags, guitarist William "Spaceman" Patterson set up his "Uke Arkestra."

He split the dozen or so ukulele players into two parts: one group plucked a set of three notes while the other strummed a chord. Patterson noted the importance of "playing the rests" and feeling the space as they built a groove.

"Feel the rests, play the rests," he said. "It means you play the silence."

Boulger said groove is a hard thing to explain or teach because it is something that needs to be felt.

"Right now we are learning about groove from James Brown's former guitarist so there's a lineage there and a passing of knowledge," Boulger said.

More instrumentation was added to the arrangement. Boulger asked students to sing a melody to build out a chorus.

"All right, everybody focus," he said. "We are going to communicate musically."

Drummer Tony Lewis guided different drummers helping them keep a beat underpinning the whole experiment while pianist Dario Boente helped students shape chords, adding new progressions as they went along.

As the arrangement was pulled closer together, students who were outside at recess abandoned their activities and gathered around the building's envelope, peering into the windows as the groove leaked out of the subterranean gymnasium.

Once all of the parts were in place, the faculty let go of the reins and let the composition exist in its truest form.

"Believe in yourself. Know that you got your part and no one can mess with you. Be yourself," Patterson said.

Finally, lyrics written by two students were pinned to the arrangement, completing the piece.

Forrestal said she hopes the residency helps more students find their musical voice and showcase the kind of work BAAMS does.

"It's essential. Part of our work is to do community outreach and locate funding support for scholarships. Donations and grants, partnerships with other arts organizations, schools, and nonprofits, all make a huge difference," she said. "If a student is motivated to begin learning music at BAAMS, their family's finances should not hinder their ability to join up. Music is for everyone."

Forrestal was happy to say BAAMS has gained even more support from several donors and foundations that will allow BAAMS to expand programming and provide more scholarships for Berkshires' Summer Jazz Band Day Camp this summer.

Click here to enroll in BAAMS.